Rellie's page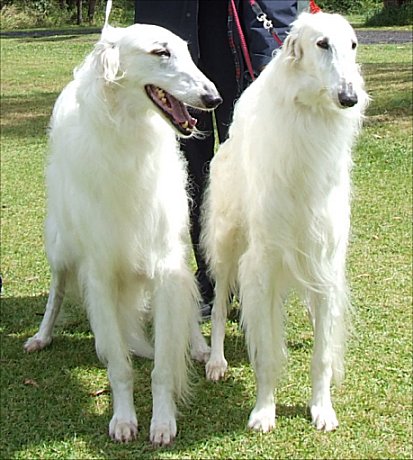 Photo taken with sister Grand Champion Mistraka Jayne Eyre at the 2006 National. Jayne went on to Best IN Show much later in the day.
D.O.B 1/9/96 - 14.9.09
Bred by, Mr. S Evans and Mr. A Ikin.
Mistraka Janice Joplin
This is Smellie Rellie. She loves to roll in and eat cow pats. The very first thing Rellie did was to find a very fresh cow pat and roll in it hence the name. When she's clean she is a wonderful little lady whose most favourite spot is in the middle of my bed asleep. She is also wonderful with children, such a gentle dog for such a tall lass. I would like to see her get over the idea that she is a lap dog tho as this can get a little uncomfortable at times.
Rellie's worst habit is that she is a food thief, she will steal food from the bench out of the pan while it is still cooking and out of your hand if you do not pay attention. The only place that we can defrost the meat for dinner is in the microwave. This so far has her beat, she has not worked out how to open it. This is very much a Borzoi thing I am told.
Rellie is now a grown up girl and when we measured her a few weeks ago she was 31 1/2 inches tall and weighed 41 kilos. It may not be obvious but we are very proud of our girl and look forward to many happy years with her. The longer she lives here the more of a delight she becomes.
I would like to thank Steve and Tony for allowing me to purchase Rellie. Rellie is the sweetest dog I have ever had the privilege of living with.
| | | | |
| --- | --- | --- | --- |
| | | | |
| I can run quicker than you Reaper | I'm just waiting for my chance to get your dinner. | Still waiting for a chance | What are you and what do you think you will get from me? |
| | | | |
| Lounging in the sun. | Very lady like. | Still?? Hmmm | I'm fine thanks. |
| | | | |
| Photo by Tincan. | Cuddles for Dad | I can outrun everyone | Feed me PLEASE |
| | | | |
| Having fun | Gee I'm pretty! | More practise | Ok Lin just how good are you at backwards? |
| | | | |
| Rell and her young relo Suzzane in the paddock april 2006 | Playing in the early morning | Gee I'm good with Fang | do know how to get warm and comfy. |
| | | | |
| Rellie seems to be enjoying her Sunday. | photo by Brian Holliday | Rellie cooling off in the heat of the day, and well before the ice cubes came out. | IWandering about on the hill at Kerry's place. Boy is it difficult to get a good photo here. |
| | | | |
| Rellie Steven and Jayne just after Jayne earned her 'Grand Champion' points. Congratulations big sister Jayne. | Rellie is ignoring Jarrod. She really can be quite the snob can our lass. | Lounging about with the Reaper. | This is my all time favourite photo of Rellie and her late great body guard Shadow. |
| | | | |
| --- | --- | --- | --- |
| | | | |
| Louis and Rell pretending to ignore each other while Chino wanders about. | After a hard day doing nothing at all. | Now this is a bone a girl can enjoy. | Are we there yet? |
| | | | |
| Rellie april 2006 | Love me Rell??? | Mistraka Janice Joplyn (Rell) at 10 years and Mistraka River O Gold (Sue) at 10 months. | 13 years old and still sleeping with a cat. |
| | | | |
| My GRAND old lady at 13. | | | |
| | | | |
Zakhov and Bronte
Just before the Borzoi club national show Rellie had the pleasure of Bronte and Zakhov's company for a day. As you can see they all got along rather well even tho we didn't allow the guys to play with them. We did kinda think it would be a criminal shame if one got hurt after travelling all the way from Tasmania for this show.

This is an optical elusion as the cup is on the tie rail.

Just a pretty girl.

Zakhov showing us how lovely he is.

Rellie and Bronte playing a little.

They do look like there're having fun.

Now what a pair this makes.

Looking at the guys in the paddock.

This is very early in the morning with the sun coming up behind them

Zakhov chatting with Ted and Reaper.

.