Shadow's Page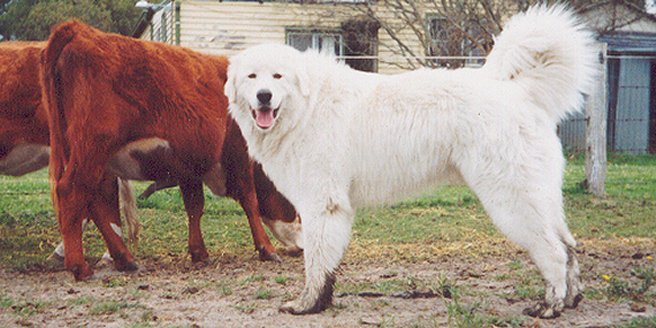 D.O.B. 13/11/98 to D.O.D 17/11/00

Shadow came to live with us in February of 1999 after a search for a pup for friends took me to look at a litter of Maremma at Singleton. Shadow just decided that he was going to be my dog that morning. He is a wonderful pup and has shown me a hole new side of dog ownership. His independence and loving nature are a wonder to behold.
Since the day he came home he has been socialised beyond belief and to an extent even beyond my normal standards. He is a pleasure to take anywhere at all. Since he is mostly a pet I have worked hard to have as stable an upbringing as possible and take him to as many different places as possible. Shopping centres, vet's office, to visit friends, parks, anywhere at all that will help his growing into a happy healthy stable dog. This is not always easy with a Maremma as they are very independent dogs, but it is worth every minute spent with them.
I can now take him anywhere at all knowing that he will behave himself with great dignity and decorum. He has an innate sense of self confidence that I hope show's in his photo's. He loves children and is a wonderful baby sitter for Arron who is now 2 1/2 years old.
These 3 photo's were taken when Shadow was 3 1/2 months old.
| | | | |
| --- | --- | --- | --- |
| 13 months. | Shadow and Rellie | Shadow and Reaper | Shadow |
Well it looks like Shadow has finally managed to get a few cows just for him and doesn't he
look pleased with them <g> Oh he is sharing them nicely with Ted who can be seen to the side.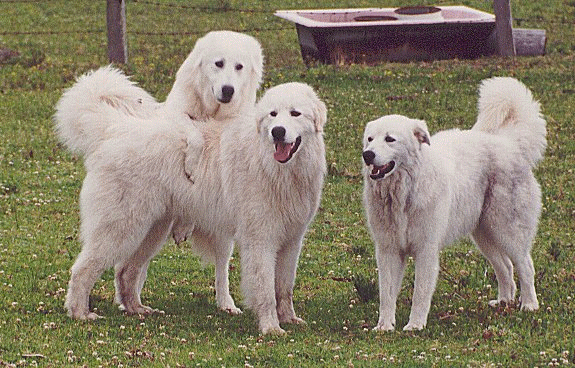 photo by Brian Holliday