My Occasional Thought
For The Day
another line of no particular meaning
There are Thoughts which come >>> And Thoughts which go >>>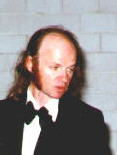 And so ...
The repetitive purple lines below, in my formatting of this page, are in Persian Cuneiform.
To Download Persian Cuneiform Font - Click Here
Then copy to your PC's Font Folder.
To Download Egyptian Heiroglyph Font - Click Here
Then copy to your PC's Font Folder.
To Download Calligraphic 421 BT Font - Click Here
Then copy to your PC's Font Folder.
To Download Paris Font - Click Here
Then copy to your PC's Font Folder.
ARCHIVE 22
1st April 2006 to 30th April 2006
Sunday 30th April 2006ad
While I wrote various things & did housework, I listened, one after another, to my three Beatles CDs: Rubber Soul; Revolver; Abbey Road. So I moved forward in time, and increased in quality, to my mind. Why did I suddenly wish to listen to these CDs for the first time this year? It is a mystery. There was no reason in words nor other thoughts; just an instant whim.
On SBS TV tonight, on Witches. In an ancient Roman well a plaque has been found mentioning the Goddess "Anna Perennae". Women used to practice the magic arts in her name. She is an ancient native Goddess of that region.
another line of no particular meaning
Saturday 29th April 2006ad
While I wrote various things & did housework, I listened, one after another, to my three Beatles CDs: Rubber Soul; Revolver; Abbey Road. So I moved forward in time, and increased in quality, to my mind. Why did I suddenly wish to listen to these CDs for the first time this year? It is a mystery. There was no reason in words nor other thoughts; just an instant whim.
... ... ... ... ... ... ...
.
Master Series - "Bohemia"
The Sydney Symphony Orchestra [SSO].
... ... ... ... ... ... ...
8.00pm, at the Concert Hall, Sydney Opera House.
Conductor: Arvo Volmer.
... ... ... ... ... ... ...
Wolfgang Amadeus Mozart: Symphony Number 38, K504 [Prague].
This was splendid! Just the First Movement [Adagio-Allegro] was enough to convince me as to what a brilliant composer Volmer is. He had the Violins giving the full range of emotion to their bowing; mostly delicately picking out the melody, with bow held high & seeming to merely minimum touch the strings for the barest sufficiency; but then at times working to a violent shimmering across the stings with downward force. I found myself instinctively aping Ludwig Van Budgie-Bird [who lives with me] and twisting my head to have my left ear to the music.
The Violins are the key, with the Other Strings, Winds, Brass & Percussion naturally falling in to line once that clear clean direction is made.
The Second Movement [Andante] was given the same precision, same cleanness of sound, but naturally quieter, slower. The Third Movement [Presto] ups the Tempo again, but yet it all is credited from that essential perfect start.
The audience applause showed I was not alone in my appreciation. The faces of the musicians were interesting: joy at knowing how well they had done; yet relief to have gotten through it all. Arvo Volmer is not a tyrant, but he is very determined and one would not want to play a wrong note in front of him.
.. ... ... ... ... ... ...
Bohuslav Martinu: Concerto for Oboe and Small Orchestra.
Soloist: Diana Doherty.
New to me I thought. But as it progressed, it proved I have heard it somewhere; probably on radio. I was surprised to learn from the Programme, that it had its debut in Sydney. Martinu wrote this Concerto for the exiled Czech Oboist, Jiri Tancibudek, who had been teaching at the Sydney Conservatorium since 1950. It was sponsored, strangely enough, by the Sydney Daily Telegraph and debuted before an audience of 2,300 patrons in Sydney Town Hall in 1955.
The Oboe Concerto itself was interesting & enjoyable to listen to, although a few times I had trouble understanding it, as the Wind & Brass seemed to play very obliquely across the Oboe.
The use of the Piano, played by Josephine Allan, as inspired, as it gives this solidity to the work. It demanded an ability to really hammer the keys at times. Allan, who was splendid last year on one of two Pianos in the Sydney Philharmonia Choir's performance of Carl Orff's "Carmina Burana", was certainly up to the job.
Diana Doherty! She who is first, I mention last, but not in any negative sense. She played splendidly. I had no idea that this slight instrument is so physically demanding. Doherty has the shoulders & arms of a champion swimmer! But then I realised that she held the Oboe with her arms bent almost all the time, and that is demanding on the muscles.
Éncore
Diana Doherty, having been called back a second time by applause, played as an éncore a J.S. Bach piece, which I recognised but could not name. They often have names which are not easy to recall. Yet I know it was not intended for Oboe, and I am amazed as to how she was able to play it so well; or even play at all. I would have thought it impossible on the Oboe, and said so at interval.
.. ... ... ... ... ... ...
interval
.. ... ... ... ... ... ...
Anton Dvorak: Symphony Number 8 in G, B163 [Opus 88].
This is the Czechest Symphony of the this Czech composer. The whole is variations based on Bohemian & Moravian Folk Music, together with interludes where he adeptly gives the countryside sounds: the Winds are the Birds, while the Violins play a low shimmering which is the wind through leaves & grass.
Compared to Mozart or Beethoven there is a pronounced Brass stridency in Dvorak. So it is something one must listen to alertly. It is not for quietesence.
Orchestra and Conductor performed brilliantly again, and were suitably rewarded with prolongued applause.
.. ... ... ... ... ... ...
Before the performance, I overheard a young women say, as she indicated a CD recorded by the late Jiri Tancibudek: "That's my grandfather!"
another line of no particular meaning
Friday 28th April 2006ad
Tonight I finally finished "The Train" by Georges Simenon; the second novel in a book which also includes "The Iron Staircase". "The Train" was not as emotionally difficult to read as the other, but it was still slow progress. I had problems, which I affected my reading. The novel has a slow measured path, where Marcel's life splits in two. There is his normal home life at the start of the novel, which resumes at the end. In between, the bulk of the novel, he is on the run with other refugees from the German advance into France in 1940. This is a separate life. Almost all the rules are different. A very fine, quietly moving, yet disturbing novel. More on it here, but as I expose the plot, you should read the novel first.
["The Train" was translated by Robert Baldick, for Penguin Books.]
Observed Behaviour Of Birds
...... ... ...
12.25pm - Unavoidably & unintentionally I disturbed the splashing of two Noisy Miners, in bird baths in Bay Road, not far from Horace Street. On my leaving they quickly resumed.
12.55pm - I took a five minute beak atop the cliff in Waverton, where the walking path from Balls Head Road meets the dead end of Larkin Street. About a dozen Leaden Flycatchers were flying very elongated anti-clockwise loops overhead, but often swooping low. Small flying insects were about in the sunshine. As I arose they were leaving, feeding done.
another line of no particular meaning
Thursday 27th April 2006ad
There is an Elephant Ears plant in Woolcott Street in Waverton, which has the most massive leaves I have ever seen on this species. Today the owner told me that it grew from a cutting of quite normal plant of this type, taken from her mother's garden. She thinks that the leaf size is due to perfect groundwater conditions at that point. I think she is right.
another line of no particular meaning
Wednesday 26th April 2006ad
Today's daily Budgie request: "Arias & Duets" of Johann Sebastian Bach, sung by Soprano Sara Macliver and Alto Sally-Anne Russell, with the Orchestra of The Antipodes conducted by Antony Walker.
another line of no particular meaning
Tuesday 25th April 2006ad
The Anzac spirit, for me, means that I watched "Pigeon Boy" this morning, on ABC TV.
Mid-morning, I continued the daily Budgie request with Soprano Arias of Wolfgang Amadeus Mozart, beautifully sung by Yvonne Kelly, with the backing of the Australian Chamber Orchestra, directed by Richard Tognetti.
Mid-afternoon, I was in Town, window shopping. My resolve lasted some significant time. But eventually, I bought two DVDs at JB-Hi: Michael Caine starring as Harry Palmer in "Funeral In Berlin"; plus Orson Welles' "The Trial", following the novel of Franz Kafka.
Early evening, I watched "Funeral In Berlin", the second in the Harry Palmer trio. It was good; not as good as "The Ipcress File", but much better than the disappointing "Billion Dollar Brain". My only real problem with "Funeral In Berlin" is that Paramount Pictures only allows one to watch in widescreen, which is the only format I hate. I watched the beginning of "The Trial" later. It is interesting, although I have some doubts about it.
another line of no particular meaning
Monday 24th April 2006ad
Late this afternoon, I thought the Budgies deserved a treat: Wolfgang Amadeus Mozart - "The Magic Flute". This is a copious excerpt version, conducted by John Elliot Gardiner, with The English Baroque Soloists & The Monteverdi Choir; plus soloists, of course, who include the magical Cyndia Sieden as The Queen of The Night.
This, I repeated at its end; then followed it up, oddly enough with Jethro Tull's "Benefit".
All were on CDs. Cassette Tapes are unreliable, while Vinyl is awkward.
another line of no particular meaning
Sunday 23rd April 2006ad
Recovering sanity through DVDs . Yes, it is possible.
Firstly - "Danger Man" - Episode 16 "Colonel Rodriguez". This series is always good value. This episode was tightly produced, with a powerful anti-tyrannical message.
Secondly - Kenneth Clark's "Western Civilisation" - Programme 9 "The Pursuit Of Happiness"; Programme 10 "The Smile Of Reason"; Programme 11 "The Worship Of Nature"; Programme 12 "The Fallacies Of Hope". This man, contrary to some thinking, is as humble as he is astute!
Reprise - "Danger Man" Episode 17 "The Island". This is an excellent oblique dissertation on the nature of people.
[Kenneth Clark named his television series "Western Civilisation".
The producer, David Attenborough dropped the "Western".]
another line of no particular meaning
Saturday 22nd April 2006ad
No Concert this weekend. Sad!
There was much television; which came and went and was seen but in part.
There were two 2006 & three 2005 chess games completed; i.e. all current.
There was tidying, ordering the home; but never enough done.
Quiet Melancholy. Not Sharp Despair.
another line of no particular meaning
Friday 21st April 2006ad
I fall asleep at 5.00pm. I awake at 8.00pm.
Three hours asleep. That is all.
But it is now too late to achieve anything.
another line of no particular meaning
Thursday 20th April 2006ad
... ... ... ... ... ... ...
.
Mozart In The City Series
"Mozart and Company"
The Sydney Symphony Orchestra [SSO],
in Chamber Mode.
... ... ... ... ... ... ...
7.00pm, at the City Recital Hall, Angel Place.
Director: Michael Dauth.
... ... ... ... ... ... ...
Louis Spohr: Concertante in G for Violin, Harp & Orchestra.
Soloists: Michael Dauth [Violin] & Louise Johnson [Harp].
Louis Spohr was an exceptional Violinist of the 19th century. He was also a noted composer of the time. When he married Dorette Scheidler, who was an exceptional Harpist, it was fated that a large corpus of works featuring Violin & Harp solos would be composed. So it proved. Indeed, anyone desirous of listening to music of such an arrangement, is going to have to like Spohr or forget it. For those who are of a gossip magazine mentality, I regret to tell you that Herr & Frau Spohr were very happy, both on the stage and off!
Since that century, Spohr has had a mixed reputation as a composer, and is certainly not much known in the British Musical Empire, which includes Australia. It is notable that those who champion his works in Australia are usually talented musicians, like the Violinist, Goest Richter.
My own views rather mirror the "mixed reception", in that I like some of his compositions, but not others. Tonight's Concertante I do like. Perhaps it is a little too sweet in places, but the writing for the Violin & Harp in combination is exceptional. They are instruments of very different sounds, but they combine here very naturally.
The supporting Orchestra was Chamber mode Strings, plus a full Wind section & Timpani.
At the interval, as I walked floors to get sustenance, the talk I overheard was mostly in praise of Harpist Louise Johnson. She indeed plays wonderfully. She also has very strong elbows. From my seat on the third floor, left side, I had a perfect view of her impeccible technique.
Michael Dauth on Violin was just as good, but the audience hears him often as a soloist, whereas Johnson is usually somewhere on the edge of a very full orchestra, when we see her at all. She is one of two brilliant Harpists resident in Sydney; the other being Marshall MacGuire.
Éncore
There was, unexpectedly, an éncore; but from my high seat, I could not hear what Louise Johnson said it was, catching only the word: "Meditation". It was played by Violin and Harp only. Afterwards, all of us in the row recognised the piece, but none could name the composer nor the work. I ventured French, 19th century. The lady next to me said later, that during the interval a friend of hers said it was a Humoresque by Messiaen.
.. ... ... ... ... ... ...
Interval
An innovation. We had no interval in "Mozart In The City" in earlier years. My legs were very painful just before interval. But walking the floors, then stretching them with several methods, eased the pain.
.. ... ... ... ... ... ...
Wolfgang Amadeus Mozart:
Divertimento Number 15 in B Flat, K287.
Mozart's divertimenti were intended to be performed with each movement played separately, the whole work extending over an evening, which included a great deal of eating, drinking & talking. So it is overwhelmingly music to give pleasure, with the occasional interlude of thoughtfulness.
The orchestra for this work was unusual: a Chamber String Orchestra, plus two French Horns. Originally they would have been Hunting Horns.
Kenneth Clark, in his thirteen part television series: "Western Civilisation", named the episode dealing with Classical Music & Roccocco Architecture: "The Pursuit Of Happiness". The main intention of the Arts in the German speaking lands of this time, he says, was to make people happy, for it was not that long since the horrors of the Thirty Years War. Happiness was seen as something very important, and a serious matter to be achieved. This idea soon spread well beyond the Germans, as it struck a chord in many places. It always has done so since. Mozart has never been forgotten, contrary to false rumour; overshadowed by other fashions often, but always there & always known.
For those who query, Clark named his series "Western Civilisation". It was the producer, David Attenborough who dropped the "Western".
Whatever may be, tonight's performance of Mozart's happy music did indeed make the audience very happy. It was pleasurable listening, underlined with an understanding that there is considerable complexity within the work; a complexity though, which is determined to be subtle and does not stand up and demand applause for its own sake.
The Fourth Movement [Adagio] is of a melancholy mood, a slow pensive sadness, but not at all miserable. It is happy in its introversion.
The Final Movement [Andante - Allegro Motto] includes lines which are often termed Turkish, although they sound Irish to me. It is joyously unrestrained, & rather loud. The evening has ended. Wake up! Go home!
.. ... ... ... ... ... ...
another line of no particular meaning
Wednesday 19th April 2006ad
Wednesday night Opera on 2MBS-FM: Wolfgang Amadeus Mozart - "Idomeo".
I can hardly deny the Budgies this treat. Nor can I deny myself.
In a sense, this performance is a preview, as Pinchgut Opera is producing this Opera in November & December this year. I look forward to it.
another line of no particular meaning
Tuesday 18th April 2006ad
Easter Tuesday. 180 degrees from yesterday.
We pay for our four day long, Holy Week weekend,
with being dipped inside a slick dip of hell today.
another line of no particular meaning
Monday 17th April 2006ad
Easter Monday.
Religious? Well, I played the balance of the DVDs that Andy M lent me: "The Gerard Story" & "Maradona". Football is religion for millions. The first was interesting. I understand this strange driven man better. The second also. Diego is not a team player. I had no idea he could be so viscious, like in that World Cup, where he kicked an innocent opponent in the testicles. His dribbling and shooting is brilliant, although I feel he was best as a teenager.
If "The World's Best Player" has any meaning as a question, as a definition, it must take note of the inescapable fact that Football is, above all, a team game. Maradona's ball skills are as good as Pele's; but Pele was always a team player, while Maradona, all too often, was not.
another line of no particular meaning
Sunday 16th April 2006ad
At 11.00am, I was at St James Church in King Street in Town for the Easter Holy Communion Service. This is an Anglican Church, in beautiful Greenway designed building, built in the early 19th century. I went since Ann Ramsey has recently died, and she attended this church.
Afterwards I went on a prolongued meander through the Botanic Gardens; taking in my usual favourite trees: the Queensland Bottle Tree; the Coastal Cypress; the Australian or White Cypress; the Port Jackson Fig; the Blackbean; the Antarctic Beech. This last is represented by several mature trees, all of which are being harmed by the behaviour of Fruitbats, and one of which seems close to death.
On the high lawn, there was the usual small flock of Sulphur Crested Cockatoos: large white Parrots with a yellow crest, which is usually thin & subtle, but which is unfurled to considerable size when they are surprised or angry. They were feeding on the ground, as is their way; mostly on fallen seeds, but also by pulling up grass & eating the roots. The tourists there found that by picking up these same seeds and placing them on ones palm, these birds can be easily hand fed. They are also, when comfortable, quite prone to land on human shoulders. This must be a surprise to those unused to such experience.
After nearly two hours, I wandered across to the Roman Catholic Cathedral, St Mary's. This building is Tardis like: seemingly much larger on the inside than the out. Especially I love the high stone ceilings, which are carved to appear as if they were made of wood.
After a short sojourn, I walked home. I would have taken a bus back home from the bottom of William Street in East Sydney, the same route as I had taken the bus into Town, but that would have meant I was home later than just walking. So I just walked.
another line of no particular meaning
Saturday 15th April 2006ad
I have begun, this morning, reading "The Lost Gospel - The Book of Q" by Morton Smith. I read this some years ago. I borrowed it from Kings Cross Library last monday, as I thought it well worth reading again.
Also, although I made it not to Saint Andrews Cathedral near Town Hall last night, for Handel's "Messiah"; I listened to it this morning from the 2 CDs recorded by The Academy Of Saint Martin In The Fields, conducted by Neville Mariner. It was very popular with the Four Budgies of the Apocalypse.
Late today, I resigned & posted the last two of my "lost games" in Correspondence Chess. NaturalIy I had to clear them all before tomorrow; rebirth and all that.
another line of no particular meaning
Friday 14th April 2006ad
Good Friday?
As a child, I never understood why this day is so called.
Still do not.
[Font is ''Paris''.][--- Chess!!---][Font is ''Paris''.]
Six Correspondence Chess Games posted!
Not a bad result. None of them are losing, which is something!
another line of no particular meaning
Thursday 13th April 2006ad
Maundy Thursday. I like the name. I am not sure why!
®®®®®®®®® ®®®®®®®®® ®®®®®®®®® ®®®®®®®®®
~1.15pm - In a bush in the garden at 103 Bay Road in Waverton, near the front fence, I saw one of those rare bright green flies. The torso was long & narrow, and pure green in colour; an almost shiny green. The wings were transparent, apart from a large black spot on each wing, near the furthest margin.
®®®®®®®®® ®®®®®®®®® ®®®®®®®®® ®®®®®®®®®
This morning I noticed that the Street Lights on Goat Island are back on again.
another line of no particular meaning
Wednesday 12th April 2006ad
~11.20am - At 100 Bay Road in Waverton, as I walked towards the lift foyer, I noticed a Pigeon sitting on the ground in the shade, right in my path. It ruffled its feathers slightly. But when I carefully began to circuit it, it settled back to relaxation.
~1.20pm - As I began the climbing part of the walk between Balls Head Road and Larkin Street, I espied these Leaden Flycatchers flying in loops, anti-clockwise mostly. There were about six to eight. It is hard to tell numbers due to their swiftness. They were concentrating their flights above a rather yellowed bush, which clung to a cliff with scraggy grass. Below this is the old ship docks, large flat grassy areas, broken by high, rather decayed concrete walls. The Leaden Flycatchers were giving happy little shrieks in rapid concurrence, which suggest that the insects they were eating were good feeding. In no way could I see these insects due to their small size.
another line of no particular meaning
Tuesday 11th April 2006ad
Another long wearying day! I could do little after. However, I did watch part of the double DVD that Andy M lent me: "Liverpool Football Club - Champions Of Europe 2005". This was the first DVD, which gives the season in retrospect. Goal quality is very impressive!
another line of no particular meaning
Monday 10th April 2006ad
Not satisfied with a long day at work, soon after finally getting back at home, I am shortly later out again, wandering in some kind of trance up & down the aisles of Kings Cross Branch of the Sydney City Library. Eventually I chose a book, "Maigret And The Man On The Bench" by Georges Simenon; a DVD, "The Leisure Hive" - Doctor Who, Tom Baker Era. This allowed me to go home & go to bed, which I did.
another line of no particular meaning
Sunday 9th April 2006ad
Deciding to choose a different medium this morning, following the end of Beethoven's "Triple Concerto" on 2MBS-FM, I put on Kenneth Clark's "Civilisation". One should note the title that Clark chose was "Western Civilisation". I had played none of this DVD box set this year. The Episode I watched, Number 6 "Protest And Communication", was one I viewed last year, but it is well worth the rewatching.
Kenneth Clark: "I suppose that, on the whole, printing has done more good than harm."
Then, as I went slowly through my correspondence chess games, I witnessed Episode 7 "Grandeur", which I also saw last year, and Episode 8, "The Pursuit Of Happiness", which I have not seen this millenium.
Finally, late afternoon, I sent off the game I won to the DOP, and the five games with a move each. This leaves one only with me. Yesterday I resigned two games, which were well lost.
another line of no particular meaning
Saturday 8th April 2006ad
After such an unforgiving week, I was in a mood which could not be directed to anything constructive this morning. Instead I was given over to watching everything I recorded off the television yesterday: early morning & vening. Firstly "Tin Tin" - "Destination Moon" Part One [from ABC2-TV]; then "Unit One" - "Episode 10" [from SBS-TV]; finally the 1960 English movie "The Silence" [from ABC-TV]. All were fine, but my head could have been better employed!.
another line of no particular meaning
Friday 7th April 2006ad
... ... ... ... ... ... ...
.
"Mozart's Masterpieces"
The Sydney Symphony Orchestra [SSO].
... ... ... ... ... ... ...
8.00pm, at the Concert Hall, Sydney Opera House.
Conductor: Edo de Waart
... ... ... ... ... ... ...
Wolfgang Amadeus Mozart:
Piano Concerto Number 15 in B Flat, K450.
Soloist: Andrea Lam.
This is a very good composition. Yes, I know it is Mozart & he has a reputation for being a very good composer; but this composition has real verve, which was noticeable for me, as it is not one I have heard often, despite its good reputation. Lam's fingers worked the keyboard deftly, giving that broad sweep of emotion demanded by the three movements. The Sydney Symphony Orchestra was its usual excellent self, which I have long taken for granted.
I thought that the audience applause was strangely muted & unfair, even for a friday night audience, which is notoriously restrained. Suspicion was in my mind, that their minds were too much concerned with the forthcoming post interval Wagner, than with the present playing. There is something of a blinkered tendency, although the Wagnerphiles are not as partisan as the Brüchnerphiles, and are certainly more generous than the worst of all, the Mahlerphiles. There is a sustantial overlap of these partisan groups, but the fraying of the edges gives the differences. I am aware of all three, as I sit in the centre front row, and they pack the A Reserve, which is but a little way behind me. To be fair to the Mahlerphiles, they do know when Mahler is performed to the nth. A sonic boom explodes forward, washing all aside!
Still, I question the musical taste within parts of the available audience; which audience is, it is true, never quite the same on two nights. I recall how a couple of years ago, Lang Lang hammered the keys without the least ounce of any sympathy, despite his keystroke & timing accuracy, to thunderous & undeserved applause at the completion of his computer performance.
.. ... ... ... ... ... ...
interval
.. ... ... ... ... ... ...
Richard Wagner [arranged Henk de Vlieger]:
The Ring - An Orchestral Adventure.
The entire Ring Cycle of four Operas, and not at all short Operas, is reworked into a one hour suite. The audience applause at the end, strongly suggested that both the arrangement & the playing succeeded very well! I would tend to agree. "The Ride Of The Valkyries" did stand out, even if, unlike me, one was not, at least in the back of ones mind, awaiting it especially. Even within the general strength of the corpus of this most masculine, or perhaps misogynist of composers, the "Ride" stands out with its sheer irrepressible brilliance. Despite the female nature of the Riders, and it being Soprano sung in the Opera, it has an overwhelming sense of maleness. Like most of the women sculpted & painted by Michaelangelo, they have female faces, but male bodies!
I find it odd that so much energy is wasted on Wagner's supposed anti-semitism, when he never descriminated against Jews. His prefered conductor,, was Jewish. However, his essential overwhelming maleness is little given breath. Two years ago, at the premiere of his opera "The Flying Dutchman", performed by Opera Australia in this same building, it was very noticeable how many unaccompanied men were there! It is a myth that men have to be dragged to Wagnerian Opera. It is rather the women who are prone to resist being there.
.. ... ... ... ... ... ...
I unexpectedly fell asleep around 6.00pm, and fortunately awoke just in time to be there in time. This constant falling asleep of mine is a worry.
The SSO's strings were arranged, in arc from left to right: First Violins, Cellos, Violas, Second Violins. So the first and last were directly opposite.
another line of no particular meaning
Thursday 6th April 2006ad
For reasons, quite unsubstantiated by any logic, after falling asleep early, I woke up at 2.15am, to watch "The Avengers" - "The Joker" on Channel Nine TV. But I fell asleep and missed most of it. So, not that long later, I put on the DVD I have of the same episode. It still was not dawn when it ended. Strange behaviour indeed. After all, why get out of bed for this, when I have it on DVD already; and have seen it probably more than a dozen times? Mind you, I could still, quite easily, watch it again.
another line of no particular meaning
Wednesday 5th April 2006ad
Tired? ... Certainly! ... But not too tired to watch "Tin Tin" on ABC2-TV. Why this cartoon has such allure for me is mysterious. It is often quite ordinary. This was the second half of the "The Castafiora Emerald" which is in many ways forgettable, despite its enlightened defence of Gypsies. The crime solving is underwhelming, however original.
another line of no particular meaning
Tuesday 4th April 2006ad
Observed Behaviour Of Birds
...... ... ...
1.50pm - In Larkin Street, Waverton, at Number Six letter box, which is inside a brick wall, there were black ants, very small, swarming over the brickwork. One flying ant was climbing the wall, to ready for take off. Several Leaden Flycatchers were making low passes over the ants. They only feed on the wing, so it was the flying ants they were after.
3.07pm - In Herbert Street, Saint Leonards, near the Wellcome Laboratories of the Royal North Shore Hospital, there was a Peewee wandering along the edge of the concrete path. It was picking at food in the grass verge and calling loudly, presumably to some unseen Peewee. It was quite unconcerned with the numerous passing people. By the appearance, I would have say it was a young adult or half-grown bird. Peewees are not common in this area and this one is the first I have seen this year.
®®®®®®®®®
Soon after arriving home, I had a shower and lay down, falling asleep for just over an hour. Unexpectedly, I woke with severe pains in both knees. It took an hour to pass. This pain is probably caused by my low blood pressure problems.
another line of no particular meaning
Monday 3rd April 2006ad
We are born. We live. We die. That is it.
another line of no particular meaning
Sunday 2nd April 2006ad
Early this morning I arose, but my legs were sore, due to my persistent problems with low blood pressure. So I put on the fourth & final CD of "A Study In Scarlet" by Arthur Conan Doyle, and went back to bed, to listen. My hearing of the whole story, read by the urbane voice of Derek Jacobi, covered a period of many weeks, with the main hiatus caused by my surprise discovery that the crime was solved, the murderer caught & exposed, at the end of CD2; that is, only halfway through the story. Definitely a mistake! The latter half of the novel is given over to an explanation as to why the murderer murdered the murderees!
I can only presume that Doyle really wanted to write a Western novel, as well as a Crime novel, and could only manage to get it published by inserting the former inside the latter. Also, he had heard about the murderous activities within the Mormons during the 19th century, and felt a pious need to bring it to a greater audience. In no way do I complain about his zeal. Is this novel in Salt Lake City public libraries, I wonder?
The novel is written with considerable literary skill, although many misguided writers of recent decades would disparage his love of description.
A problem I have with the story itself is that more than a little of Sherlock Holmes' detecting is quite fanciful. As well, the early anecdote, that Holmes is unaware that the solar system is heliocentric, is ill-chosen, as Holmes is clearly educated.
Perhaps my greatest problem of all is with the personality of Doyle himself. He tries to purport that he is the likeable Dr Watson; but rather the prickly Holmes is clearly giving vent to the venom of Doyle himself. Through this mouth, he visciously disparages other crime writers. However, he dares not in this, his first novel, attack Fergus Hume of "The Mystery Of A Hansom Cab" fame, like he is said to have done in private. After all, others may have pointed out numerous borrowings from Hume: such as the two police detectives who are constant rivals; and using the concealing advantage of the hansom cab.
[This 2004 recording is published by BBC Audiobooks.]
Even earlier, I had arisen to watch the "The Baron" on Channel 9 TV. This episode was entitled "The Legions Of Ammak".The Baron himself, I found to be rather wooden; likewise his male sidekick. The woman who was assisting him last week, who had some personality, seems gone. Due to a mishap with the alarm that night, I caught only five minutes at the episode's end. Today, due to the vagarities of daylight savings, I was up an hour early.
To what purpose? Well, the story was alright; while the special guest, Christopher Wyngrade's acting was very good. Most of all, it is so I know the show, & do not splash out on the DVD box set, complete, which costs around $137.00. I might just regret spending it.
®®®®®®®®®
And then there is the afternoon:
Doctor Who..
Doctor Who - Pertwee Era - "The Three Doctors"
Here was an innovation, which came from suggestions in fan letters: having all three actors who had played the Doctor [at that time], playing the Doctor in the one story. There was a problem, in that William Hartnell was very ill, and his memory was affected. This was circumvented by having the First Doctor trapped in a time bubble, so he appeared only on a television style monitor in the Tardis. Thus, he could be recorded when looking directly at the camera, reading the words on an autocue. It works well & looks perfectly natural in the story.
Patrick Troughton as the Second Doctor and Jon Pertwee as Third Doctor appear normally in the story. The personality dispute between them succeeds superbly, with satirical barbs flying between them. This is great credit to the writers, Bob Baker & Dave Martin.
And Hartnell gets some excellent lines too! Looking at his next two reincarnations for the first time, he says: "Oh, so you're my replacements. Huh [quietly]. A dandy and a clown.". At this Troughton raises his eyebrows [very archly!], and he and Pertwee turn to look at each other.
They did wish to use Frazer Hines, who played the Second Doctor's companion, Jamie Macrimmon, for a small scene in the final episode. Unfortunately he was unavailable, due to a busy schedule he had at that time, in the Soap Opera he starred in.
Doctor Who
The Story:
The Time Lords are under attack. A mysterious Black Hole is draining their energy away and threatening to destroy them. To help them in this critical situation, the Doctor [Jon Pertwee] is called in. When he comes under attack from mysterious "monsters", his previous incarnation [Patrick Troughton] is transferred out of his time and into the Tardis at the "present time". As they continue under threat, his antepenultimate incarnation [William Hartnell] is to be transferred, but he is trapped in a time bubble, as the Time Lords' energy is insufficient to fully transfer him, and talks to them through the Tardis' monitor.
They enter a strange purple-black substance, which proves to be kind of door, transporting people & objects to the realm of the Villain who causes all the problems. This is in a singularity [please excuse the physics] where there is a world created by Omega [Stephen Thorne], a Time Lord who was abandoned aeons ago, and feels a bit sore about. In the end he destroys himself, quite unintentionally, by his own actions. All the people and objects are returned to where they should be.
Doctor Who
The Commentary:
Katy Mannning, who played the Third Doctor's companion, Jo Grant.
Nicholas Courtney, who played the commander of UNIT [United Nations Intelligence Taskforce, Brigadier Gordon Lethbridge-Stewart.
Barry Letts, who produced this story and indeed this season of Doctor Who.
..................................................................
The extras, on the same single DVD, are good, with interviews and various background information. Most entertaining is the PanoptiCon '93, an English fan event, with Jon Pertwee and Katy Mannning as guests. Katy, especially, is in fine form, putting in their place, those from the floor who ask "naughty" questions. One man asked if she planned to do any more modelling for Mayfair. Some years before she was filmed for them, in the nude with a Dalek. I had never thought of a Dalek as a sex object, before hearing about this shoot three years ago. Having seen these photos, as JPGs, the said sex appeal of the Dalek still does escape me. Ms Mannning, however, was very attractive!
Jon was full of interesting anecdotes. He said Roger Delgrado, who was the first actor to play The Master, "looked absolutely terrifying, in those eyes and that beard", but would not say "boo to a chicklet". ... "He was the most nervous man about everything. In the Sea Devils, when we put him on a boat, I mean, one of those little jet ski things, he nearly died!". ... "He was incredibly cowardly and therefore the bravest man I have ever known in my life". That is, it took enormous courage for him to do anything with even the slightest suggestion of danger.
I also learnt how he died. In Turkey, Delgrado was on a film set & was left behind by the film company car. So he took a taxi to get to the location, and unfortunately the taxi driver was "a complete idiot and drove him over a cliff, and he was killed.".
Doctor Who
Episode One
Barry Letts: "One of the silliest monster's we've ever had" ... "the way they move."
Tony Sims [extra-DVD] commentator: I agree. At the time I first saw this story it was a big problem for me; as was the dubious phyics. I can live with it now.
Katy Manning: "It's the Brig's answer to everything. Blow it up or shoot it."
Episode Two
Katy Manning: "I wanted her hair, but the BBC budget could not run to making me a wig." [The hair of another actress.]
Nicholas Courtney: "When does a Black Hole become a Suernova? No. Probably."
¶¶¶¶¶¶¶
Katy Manning: "I like a bit of thigh slapping."
Nicholas Courtney: "Don't we all?"
¶¶¶¶¶¶¶
Episode Three
Barry Letts: "This [set] was done by Roger Limmerton, who was ... one of the BBC's best designers. But I don't think he did a very good job on this show."
Tony Sims [extra-DVD] commentator: I agree, looking at this story in isolation. However, the appearance is so unusual - with the only set at all similar, being that of "The Zygons", a Tom Baker Era & UNIT story - it gives it a sort of immortality in its difference. This is apart from having three Doctors. I suppose one might say: It is a bit like "The Zygons", but with two more Doctors.
¶¶¶¶¶¶¶
On Omega's Mask, which is solid, with no moving parts.
Katy Manning: "Actually its a sad face."
Nicholas Courtney: "A desperate face."
Barry Letts: "Phantom Of The Opera."
¶¶¶¶¶¶¶
Barry Letts: "This is more Science Fantasy than Science Fiction."
Katy Manning: [On Omega] "He was actually very sweet."
¶¶¶¶¶¶¶
... ... ... ... ... ... ...
another line of no particular meaning
Saturday 1st April 2006ad
....
Wolfgang Razorbeak Visits The Vets.
[Not His Idea!!]
That time came again, although it had been delayed by his habit of breaking off his lower beak by himself; self-trimming his beak, as I call it. However, since 4th March this year, he seems to have been unable to trim it. So it just keeps growing; quite rapidly.
There were these communications. I would look carefully at his beak, and then say "beak" as I pointed at my mouth; then "Wolfgang", as I pointed at him; repeating this several times. He acknowledges by biting his upper beak against his undershot lower beak repeatedly. I encourage him to bite. "Wolfgang! Biting!" He understands and responds, unless he is completely not in the mood. He likes biting! Also, I would mention the Vets, tapping the travel cage, which is on top of a bookshelf. At which he indicates his understanding by biting his upper beak against his lower, as mentioned.
But it was clear to me that he could not snap the beak off, despite all his efforts. I think this was so, as in the period during which it was short enough for him to trim, he was reluctant to persist. This is understandable, as it is an imposition on him, and he must regard it as unfair. This week he seems cautious with his biting, and I expect the sheer length made him instinctively wary, as he could not be sure how it would break.
By thursday I was sure that I must take him to Cremorne Veterinary Hospital, but I did not phone. On friday, I had to leave in a rush to catch the bus, and had no time to look up the phone number. At work, there were no phone books. There used to be! So I determined to phone as soon as I arrived home. Fortunately, I was able to get a Saturday appointment at 9.45am. Phase One complete - the hardest for me!
Next trick was to get Wolfgang into the travel cage. This was surprisingly easy. He was less frantic than usual, not because he was less fearful, but I suppose he realised from last time, that even if he does slip out of the cage, there is nowhere to go. For the first time in the history of beak trimming, he did not even attempt to bite me. This is probably due to the length of his beak. Possibly, also, a realisation on his part, that although he had been given ample time, he simple could not trim his beak himself.
All this was achieved with plenty time to spare. But I could not quite get my head together. Things went not smoothely. Finally I was out, but late; my fault,not Wolfie's. The bus we caught, from the Cross to the Quay, ran to schedule, but due to my tardiness, we missed the ferry. So, it was a train to Wynyard - a new experience for the Biting Budgie - and then an ascent in a glass walled elevator - another new experience for him - and a bus across the Harbour Bridge and up the Military Road to Spofforth Street, Cremorne - likewise! He had been quiet; mostly perching, but a little nervous, more than usual. As I always do on these trips, I held his cage up, so that he can see out. He likes to see out; just like a child. Towards the end of the bus trip, from about Neutral Bay to Cremorne, Wolfgang became rather lively. He was calling back to bird calls he heard, and dancing about on the perches.
At Cremorne, I walked arund the corner to find the Hospital to be a demolition site. Fortunately, it was now in a building just across the road. Wolfie seemed still lively. At least, I thought, he may not recognise it as the Vets, being a new surgery in a different building. I notified our arrival and sat down; glanced at Wolfgang, who had frozen with tenseness. He knew!
It was a male Vet, another first. I knocked the perches down in the travel cage. He gently grasped Wolfie; a quick look; snip snip, and the lower beak was trimmed. Still holding the patient, he explained that he did not think the upper beak should be trimmed as it was a bit contorted. I agreed. Wolfie still uses it easily, although it looks not the best. He also commented on how well behaved Wolfgang was! He had been quiet and still during surgery, and was just sitting, shivering a bit in the cage. I said he is not always so easily mannered at such times, and briefly narrated the previous trip.
The bill was paid. Wolfgang sat on their counter while I made a trip to the toilet. One cannot really do this holding a bird cage! And we were off on our return. Wolfgang added to his periodic shivering, with his left wing suddenly stretching out, where it would stay quite some time, until he preened it back into place. There was much preening. A human holding a Budgie, even for a few seconds, apparently puts every single feather & fluff out of place.
The bus took some time, about 15 minutes, but it was mild and sunny. So when we reached the bus stop, some blocks down Spofforth Street, almost at the shops, his cage rested on the seat, while I mostly stood & stretched limbs. It was a quick trip to Cremorne Wharf, once more with me holding him up to view the scenery.
At the Wharf, there was a few minutes wait. On the pontoon, Wolfie could smell the sea & watch its vast blueness. This is so, even for merely a Harbour; but what a Harbour! I have the clear impression that he loves looking at the sea, is fascinated by it. The slow rolling of the pontoon, and then the gentle pitching, rolling & yawing of the ferry, also seems to be to his liking.
On the ferry, I went upstairs, to the front, raising him to get a good view. I even told him what the sights were, although I am sure that "Pingut or Fort Denison" meant nothing to him; beyond the fact that he knew I was talking to him. By the time we were entering Sydney Cove, he had stopped stretching out his left wing, had ceased the occasional shivers, and was perky and vocal. He also was often quickly opening & closing his beak, testing his new lower beak, and was clearly happy with it. Budgies seem to attract comment, and two women, not far away, were discussing a Budgie called Fudgie that one had had.
The walk to the bus stop & the bus to home were uneventful for me; but no doubt exciting for Wolfie as he watched the Pigeons & Silver Gulls near the bus stop, and was held up to see the view through the streets. He went quiet, when we alighted; a short walk up the street; the ascent of the narrow enclosed staircase; the front door. He knew we were back.
For twenty minutes I sat him, in his travel cage, on top of his normal cage. It made him feel important. For a Budgerigar, height is power! He could also see the view much further out. They love looking at scenery; even just traffic moving. And he could look down on the other three Budgies: Valkyrie, Amadeus & Ludwig.
Persuading him back into his own cage was tricky, as always. I had both doors open, but he would not go through. He wanted to; he danced back and forth along the perch; but he would not make the move. I knocked down both perches, so he had to stand on the floor. Then almost immediately, he cautiously walked though. A bit of trepidition; then soon he was doing all his circuits, making sure that everything was in place!
another line of no particular meaning

For a change, I thought I would be utterly obvious.
So I just made the new page start at the beginning of the month.
But in Ancient Rome, this was the first day of the year.
THE END IS NEAR
INDEED, IT IS HERE !!
©TONY SIMS, 2006ad - Text, Formatting & Ego.
abcdefghijyyyklmnopqrstu