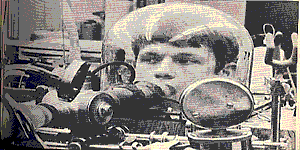 DARIUS:

In the space of twenty four hours, on Inframind, wafer thin crepes, Devon cream and blackberry conserve have been consumed by Clarissa Ablethorpe. At lunch, she fuelled herself with smoked salmon mousse, refreshed herself with an icy granita. At a high level diplomatic function, cocktail bratwurst and pureed celery were the order of the day and, in the company of the Malaysian Charge dčAffaires, a shot of expensive Scotch whiskey was politely swilled and swallowed. As the evening drew to a close, she judiciously sipped champagne, before the arrival of Didier Hunnington caused the nervous Clarissa to ill-advisedly quaff a long island tea, and then to ruminously suck an olive from its toothpick. At last, before extinguishing her bedside light, she consumed two Normisons with a glass of warm milk.


HE REGARDS THE CONCOCTION IN THE BUCKET. HE STIRS IT.


Before me, I have an approximation of the contents of Clarissa Ablethorpečs stomach, at the time of her retiring from consciousness on May the fifteenth, 1992.


DARIUS TAKES A SAMPLE IN A GLASS. HE RAISES IT, AS IF IN A TOAST, AND REGARDS IT INTENSELY.
With it, I hope to learn...